JD Richey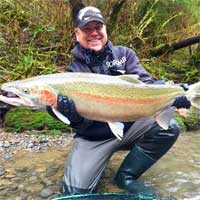 Since 1998, full time fishing junkie and professional guide, JD Richey, has been leading fishing adventures in Northern California and Alaska since 1998. As a staff writer for several national magazines and regional newspapers, he has penned thousands of articles on fishing and outdoor sports and has written books on the subject as well.
In his "spare time," Richey writes and maintains the popular online fishing magazine, www.fishwithjd.com.
On the conservation end, Richey has served as a consultant on several river restoration projects that have helped boost native fish populations.